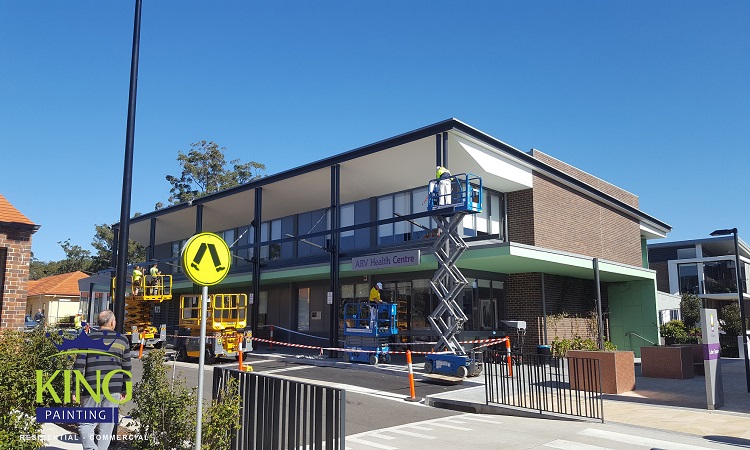 COMMERCIAL PAINTING SERVICES - SYDNEY AND NSW
We can adjust our work schedule to avoid disrupting your business operations, whether that involves working weekends, holidays, evenings, or plant shutdowns. In addition, our office staff and project managers are experts in coordinating our work with other contractors who may be performing other work on your facilities.
King Painting is a locally-owned and operated painting contractor. We work to provide superior commercial painting services to Sydney area and all of Central coast with excellent craftsmanship and intense commitment. We stand behind our work with an excellent warranty, and we provide paint maintenance plans to our commercial painting customers.
With extensive experience as a commercial painting contractor, King Painting knows the techniques, tools and materials that will protect your facilities from the elements for years to come. Our professional painters cut no corners; we give full attention to every step of setup, preparation and application so that our premium materials give maximum performance. Our finished product is always spectacular—just visit our portfolio page to see for yourself—and we're not satisfied until you are!
We know that the security of your business assets and personnel are vital, and we take that seriously. That is why our rigorous safety policy is clearly documented and all of our employees receive regular safety instruction. In addition, each of our employees is carefully screened prior to hiring, with a drug test and a criminal background check. If your facility is starting to look dull or washed out, it may be time for professional attention. Contact us at King Painting today to find out how we can improve your commercial facility, or click on request a no-obligation quote.
Serviced areas around Sydney:
Commercial Painting Sydney
Commercial Painting CBD Sydney
Commercial Painting Wetherill Park
Commercial Painting Blacktown
Commercial Painting Homebush
Commercial Painting Norwest Business Park
Commercial Painting Bella Vista
Commercial Painting Baulkham Hills
Commercial Painting Chatswood
Commercial Painting Strathfield
Commercial Painting Lidcomb
Commercial Painting Burwood
Commercial Painting Castle Hill
Commercial Painting Windsor
Commercial Painting Ingleburn
Commercial Painting Smithfeild
Commercial Painting Parramatta
Commercial Painting Monavale