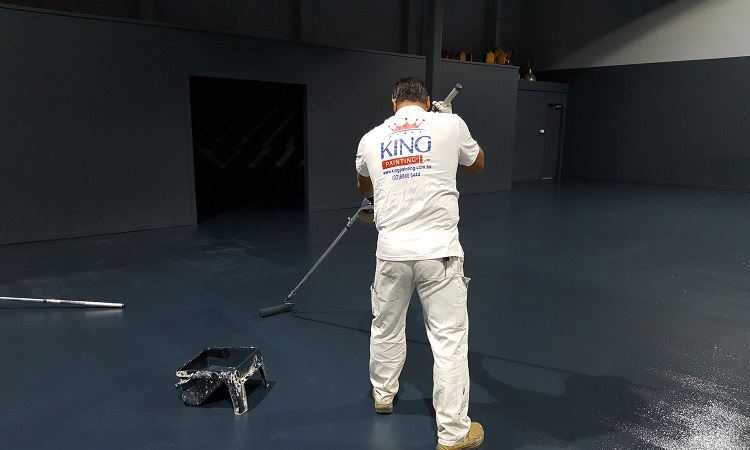 EPOXY FLOORING SYDNEY
Whether your floor is exposed to chemicals, impact or abrasion, we provide coatings that offer:
- Concrete Repair
- Long-term durability
- Industrial Epoxy Flooring
- Residential Epoxy Flooring (Garage/Basement Floors)
- Garage Floor Coatings
-Industrial Floor Coatings
- Basement Floor Epoxy
- Epoxy Garage Floor Coating
- Garage Floor Repair
- Interior Concrete Floor Repairs and Polishing
- Safety and Line Striping
- Concrete Repair Epoxy
- Pressure Cleaning of Building and Concrete Surfaces
- Concrete Surface Repair
We offer Sydney and suburbs Epoxy Flooring solutions and strive to be the best at providing the highest quality industrial floor coatings. Having an amazing epoxy floor coating will allow you to create the best possible work environment for your employees. King Painting Epoxy Flooring installations are only as good as the material's that are used.
We ensure that your new flooring system is installed the correct way the first time and that it's built to last. We use decorative quartz flooring as it's the ideal material to create a non-slip floor that is also attractive and cost-effective.
Our trained and licensed professionals are able to consult with you to find the best possible epoxy flooring solution. We take the time to fully understand your floor coating needs. There is not a one size fits all approach to industrial floor coatings. There is more traffic in areas of your job site than others.
This will dictate the needs in the application during the installation. We create a feel for all of your high traffic areas that are required to be extremely durable. Lower traffic areas will require less attention. We will offer recommendations and create a floor plan that works within your spending budget.
Once the consulting process is completed, we will take your ideas into consideration and offer our suggestions on the overall look and feel of your epoxy flooring installation.